* Images shown are of mature plants
---
Product Details
| | |
| --- | --- |
| Mature Height: | 6 ft. |
| Mature Width: | 6 ft. |
| Sunlight: | Full Sun |
| Growth Rate: | Moderate |
| Harvest Time: | May - July |
| Year to Bear: | Can Fruit the 1st Year! |
| Botanical Name: | Vaccinium 'Southern Blueberry' |
| Does Not Ship To: | AZ, CA, OR, WA |
| Grows Well In Zones: | 6-8 outdoors |
| You are in Growing Zone: | # |
Growing Zones: 6-8 outdoors
(hardy down to 0℉)
Product Description
3 types of blueberries on one bush!
Enjoy fresh blueberries for months! These shrubs are the result of three different blueberry varieties grafted onto a single rootstock to give you a single bush that produces berries from spring into fall. You'll have berries to pick all summer, instead of all at once.

You'll save space and turn any small area of your yard into a mini blueberry factory. This compact 4 foot bush will give you buckets of berries! Normally it would take 3 different bushes to give you the same amount. It's self-pollinating, and doesn't need a mate!

Save money and time! By growing your own organic blueberries all summer you won't have to hunt them down in grocery stores and spend a fortune on them. Instead you can go into your own back yard and pick a few berries perfect for snacking or any recipe. Plus you'll have peace of mind know the berries you grow yourself weren't grown with harmful chemicals.

These low maintenance shrubs have been hand grafted in order to provide tough, high quality blueberry bushes. Time and skill were put into developing these pest and disease resistant berry varieties. As a result they're drought and heat tolerant. You'll get thicker branches, and fruit during their first year.

Due to the time and effort that's taken into producing each one of these blueberry bushes, we only have a limited supply. We recommend placing your order before they're gone!
Pollination Info
3-in-1 Blueberry Bush (Southern Highbush) Pollination
3-in-1 Blueberry Bush (Southern Highbush)s are self-fertile. You will get fruit with only one plant. However, adding an additional 3-in-1 Blueberry Bush (Southern Highbush) will drastically increase the size of your crop.
Planting & Care
The Blueberry is a deciduous shrub. The leaves are spirally arranged, narrow, and start out red-bronze in the spring only to develop into a dark-green. The flowers of the Blueberry are white, and bell-shaped. The fruit is a berry, which is dark blue to black, and has a thin wax coating.
Seasonal information: Blueberries are grown as an ornamental plant for its fall colors, typically bright orange or red. It is also a highly regarded "super food", containing beneficial vitamins and nutrients.
Location: When selecting a site to plant your Blueberry bush, make sure the site has full sun and drains well. The plant grows best in moist soil, not in soggy soil. Blueberry plants require acidic, well-draining soil. When planted in soils with a pH higher than 5.5, blueberry plants do not absorb nutrients adequately and become more susceptible to disease. Blueberry plants contract moisture-related diseases when exposed to humid conditions or standing water.
Planting instructions: Dig a hole with the shovel that is about twice the size of the root ball of the bush. Make sure the hole is the same depth as the container it comes in. When planting more than one blueberry bush, dig holes that are at least five feet apart in rows that are 10 feet apart. Amend the soil from the hole with peat moss. Make sure to thoroughly mix the peat moss with the soil from the hole. Place the Blueberry bush in the hole. Cover the roots with soil-peat moss mix.
Watering: Your blueberry bushes will need to be watered regularly to make certain that the root system becomes well established. The soil surrounding your tree should be moist, but never saturated. Light green leaves can be a sign of over watering, while drooping leaves can be a sign of both over or under watering.
Fertilization: You do not need to fertilize the Blueberry bush at the time of planting. Fertilize the Blueberry bush twice a year, once in the spring and once after harvest.
Weed Control: Hand-pull weeds near the blueberry shrubs. You can damage the shallow root system with garden tools.
Pests and Disease: Blueberries grow best in acidic soil and are subject to few pests and diseases. The Blueberries are not self-fertile, so two compatible varieties should be planted next to each other to maintain growth and fruiting. If maintained with mulching, the berries can handle temperatures as low as 10 degrees Fahrenheit. Blueberries can mature to the height of three to six feet with a width of up to three feet. The plant has few insect or disease problems; however, birds and squirrels are prone to eating them.
Pruning: Blueberries require only minimal pruning. Lower limbs can be thinned out to keep the fruit from touching the soil, and excessively vigorous upright shoots can be thinned out several feet from the ground to keep the center of the bush open, and to keep the bearing surface within reach. Spindly, weak, or dead branches should be thinned out annually during the dormant season.
Shipping Details
Shipping Alert:
You can still order, but due to cold weather, we have delayed shipping to the areas shaded on the map below. We want your new plant to thrive right out of the box, so we will wait on shipping your order until the weather is ideal. This includes anyone in Growing Zones 3, & 4. If you are unsure of your growing zone, visit our Growing Zone Finder.

Some plants are not available for immediate shipment, and delayed delivery is noted.

We will resume normal shipping in the Spring. Please see the table below for your approximate ship date.
| | | |
| --- | --- | --- |
| | Growing Zone | Shipping Resumes |
| | Zones 3 & 4 | Week of May 2nd |
| | Zones 5 - 11 | Ships Now! |
Estimated Shipping Time: Most orders ship immediately. As noted on the website, some items are seasonal, and may only ship in spring or fall. Once your order is shipped, you'll receive an email with a tracking number.
| Amount of Order | Shipping Charge |
| --- | --- |
| Less than $15 | $11.95 |
| $15.00-$23.99 | $13.95 |
| $24.00-$39.99 | $16.95 |
| $40.00-$79.99 | $19.95 |
| $80.00-$98.99 | $24.95 |
| $99.00-$128.99 | $29.95 |
| $129.00-$148.99 | $39.95 |
| $149 + | FREE SHIPPING! |
Customer

Reviews

& Photos

Customer Reviews

Write a Review

Ask a Question

Filter Reviews:
berries
company
plants
leaves
ground
bushes
blueberry bushes
fingers
fruit tree
emails
11/14/2021
Patty P.

United States
I recommend this product
So far so good
Ordered numerous plants; berries, fruit tree and ornamentals. I loved the way they came boxed. Well protected. All looked great out of the box. I have planted them and now we wait till spring to see how they take. 3-in-1 Blueberry Bush (Southern Highbush) Powderblue Blueberry Tifblue Blueberry Bush Triple Crown Blackberry Black Mission Fig Dwarf Korean Lilac Shrub Debutante Camellia
09/01/2021
Sarah S.

United States
I recommend this product
Great plant
I planted these two blueberry bushes the day after I received them in the mail. Into new topsoil and compost with root rocket and watered thoroughly twice a day and mulched on top. So far the leaves have stayed the same healthy color as they were when they arrived. No brown, dead or shriveled leaves. Looks healthy so far. Been about two weeks. Survived through the eastern outer weather bands of hurricane Ida in Pensacola FL. Lots of high wind and torrential rain and they seem to have loved it! Not bothered at all. Fingers crossed!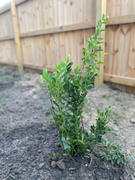 05/24/2021
Gregory L.

United States
I recommend this product
Great Plant
The plant is growing well and there are lots of Berries on it, I have it in a large Barrel Planter and am happy. It has grown 8" branches and is doing well....I may plant it in the ground in the spring. I have found for me, in an area where the soil is clay and non acidic planting in Pots, Buckets or huge planters works best , at least for the first year !! It gives me time to prepair a large treated bed to the plant.
05/02/2021
Anonymous

United States
I recommend this product
Three in one Blueberry plant
Arrived when promised, and in good shape. Is now in the ground and hopefully will do well.
04/29/2021
David N.

United States
I recommend this product
Great blueberry plants!!!
Plants are great!!!