* Images shown are of mature plants
My FGT Yard Planner
You'll need to log in or create an account in order to save this item
Add to Yard Planner
---
Enjoy a Plentiful Harvest Every Year
Plump, Delicious Grapes
The Triumph Muscadine is a mid-season ripening grapevine that will produce more grapes than you'll know what to do with! Expect very large grapes to ripen around August and continue through September.
Maintenance Free
You don't have to be a master gardener, but you'll sure look like one. The best part: no work is required to get a beautiful vine and large harvest of grapes year after year. It's cold hardy so even northern states - some up to Zone 7 can grow this vine with ease. It's disease resistant, therefore, no harmful sprays are needed to keep pests away.
Unlike many grapes, the Triumph is self-pollinating, so you don't have to plant a partner for pollination, although, their so beautiful and prolific, you'll most likely want more than one!
Preferred Grape for Wine
Winemakers love the Triumph because of its robust, juicy flavor. You'll love it too. If you're a wine connoisseur, you may want to try your hand at making your own wine at home. After all, you'll have plenty of grapes, and this is a sure way to enjoy them throughout the year. You can also preserve them and have plenty of jelly and jam. Nothing tastes better than a peanut butter and jelly sandwich made with your own jelly. Of course, these grapes are perfect to pick right off the vine for convenient snacking.
One of the most healthy fruits you can eat. Triumph Muscadine grapes are packed with vitamins and anti-oxidants.
A Beautiful Plant
While the grape production is impressive, you're likely to appreciate its beauty just as much! Plant it to wrap around a trellis right outside your window. Or watch it wind its way across an above-patio arbor. These will even do well grown in a container. It adds a touch of splendor wherever it resides. You'll look forward to seeing it grow year after year.
Order now and expect delicious sweet grapes the first season!
Pollination Info
Triumph Muscadine Grapes Pollination
Triumph Muscadine Grapess are self-fertile. You will get fruit with only one plant. However, adding an additional Triumph Muscadine Grapes will drastically increase the size of your crop.
Planting & Care
The Triumph Muscadine grapes are pink-ish, bronze grapes that are sweet with a pleasant "crunch" texture. This type of grape is quite popular for wine making as well as eating fresh right off of the vine. This variety known as "Vitis rotundifolia" performs best in USDA growing zones 7-10 in a full sun location. Triumph muscadine grapes are fast growers, maturing to a height of 12 feet tall and 5-8 feet in width and with most grape varieties, will need a trellis or wire support to properly grow. The grape vine is self-fertile and therefore will not require a pollinator in order for the fruit to set.
Location: When planting triumph muscadine grapes, find a location that offers full sun and moist, well-draining soil. Avoid shaded areas as fruit set/production will be reduced in the absence of sun during the growing season. Muscadines are a vine and will require some type of trellis to grow on properly.
Planting Instructions:
1) Dig your hole 3 times the width and slightly shallower than the root ball.
2) Loosen the soil, in and around the hole so the roots can easily break through.
3) Use your fingers to separate the roots of your triumph muscadine vine and gently position downward in the hole. The top of the root flare (where the roots end and the trunk begins) should be about an inch above the surrounding soil.
4) Begin to backfill the site, tamping down the soil as you go.
5) Apply water to settle the soil and remove any air pockets that may have formed then mulch to retain soil moisture.
Watering: Water regularly for the first year by giving your plants about 1 inch of water (1-2 gallons) a week. Directly moisten the roots but avoid spraying or misting the grapes. After the vines are a bit more established, they will seldom need watering. Be watchful for leaf drop, this is an early warning sign that you may be over watering.
Pollination: Most species of grape are self-fertile but a good rule of "green thumb" is to always plant in pairs. This will assure you a healthy yield of fruit come harvest time.
Fertilizing: Apply a 1/4 pound of formula 12-12-12 or 10-10-10 fertilizer in an 18 inch circle around each vine in April. Re-apply every 6 weeks until July during the first year of growth. In the second year, apply fertilizer in March, May and July increasing the dose to 1/2 pound per vine. Be sure the fertilizer is not closer than 21 inches from the trunk.
Pruning: Balanced pruning maintains the vine's form, size, vigor, and next season's fruiting wood. Pruning should be done when the vines are dormant in late winter or early spring. Do not prune when vines could freeze, because the new growth can be brittle and can damage easily. Foliage around the grape clusters can be removed to expose the fruit to sunlight in a short growing season. During your first growing season multiple shoots will begin to grow and the vine may become bushy. Some trim their plants back to just one or two shoots. Others prefer to let them grow so they may have a better selection to choose from during the following winter's pruning.
Harvesting: Taste is the best determining factor if it's time to harvest or not. When fruit appears. Test its ripeness by picking a few grapes from different areas and tasting them. If the grapes are sweet, start picking as they ready for harvesting.
Shipping Details
Estimated Shipping Time: Most orders ship immediately. As noted on the website, some items are seasonal, and may only ship in spring or fall. Once your order is shipped, you'll receive an email with a tracking number.
| Amount of Order | Shipping Charge |
| --- | --- |
| Less than $129 | $19.95 |
| $129 + | FREE SHIPPING! |
| | |
| --- | --- |
| Mature Height: | 12 ft. |
| Mature Width: | 5-8 ft. |
| Sunlight: | Full Sun |
| Growth Rate: | Fast |
| Harvest Time: | August - September |
| Year to Bear: | Can Fruit the 1st year! |
| Botanical Name: | Vitis rotundifolia |
| Does Not Ship To: | AZ,ID,OR,WA |
| Grows Well In Zones: | 7-10 outdoors |
| Your Growing Zone: | # |
Growing Zones: 7-10 outdoors
(hardy down to 10℉)
Customer

Reviews

& Photos

Customer Reviews

100

reviewers would recommend this product

Write a Review

Ask a Question

Filter Reviews:
plants
leaves
vine
weather
condition
Spring
replacement
best
issues
care
11/19/2022
Anonymous

United States
I recommend this product
Do I like my Triumph Muscadine Grapes?
Your Triumph vine arrived well packaged and safe and healthy. I've planted this Triumph near my 3-4 year young barren Darlene, who easily became a 6 foot tall, 2 trunk trained vine with 4 8 foot arms. I'll report back when Spring tells us if they set clusters.
08/05/2022
Michael M.

United States
I recommend this product
My Muscadine grapes are thriving after 2-1/2 months. I bought 2 triumph and another one with the Carlos grapes
They are perfect. The grape canes arrived with a healthy root system. It quickly adjusted yo the Southern California soil and weather and us thriving like crazy, I bought 1 , 2 and 3 gallons.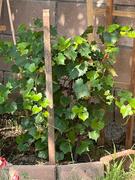 07/21/2022
Anonymous

United States
I recommend this product
So far so good. It's a new plant, so can't tell much yet.
06/24/2022
Janis M.

United States
I recommend this product
Very good. Someone stole the first one and Fast Growing Trees sent me a replacement. This is for our Clubhouse Love the tall grapevines
05/11/2022
Fannie A.

United States
I recommend this product
Health Growing Grape Vine with small Grapes now.
I am pleased with my Grape vines plant growth rate. I am seeing small round Grapes grow now. I have a lot more leafs and Vine growth. I will have to make a fence to hold up the Grape vines before they are yo big. I recommend this product. I bought two Grape Vine that was recommended to grow well with each other .I planted with Miracle Grow Potting Soil Mix, and black cow mix. Did not take any pictures waiting for Grapes to appear. They I will do a update, about my Grapes. I planted in Florida.