1532772483124
12455
* Images shown are of mature plants
My FGT Yard Planner
You'll need to log in or create an account in order to save this item
---
Deliciously Sweet and Low in Acidity
One variety in a vast category of Asian pears, the Shinseiki are medium-sized, round, have yellow skin and are desirable because they are tasty when crisp (at harvest) as well as ripened to a softer, but still firm, texture after many months in cold storage.
Most Asian pears appeal to people who prefer apples like Granny Smiths over Red Delicious and a pear that is crisper, less juicy, and desirable for salads, tortes, roasted meat and other dishes that benefit from lower sugary juice content.
Covered with early-mid spring white blossoms that bear uniform fruit, this Asian pear prefers to have a strong central leader and tends to grow into a vertical oval if pruned properly. It will send high limbs vertically to create a rounded evergreen shape if left un-pruned.
Aesthetically, your garden area or orchard will benefit from the pleasing combination of this variety's long, bright green leaves and round, almost ornament-like, golden yellow fruits.
Where and What Stock Type of Shinseiki to Plant
The Shinseiki tree will thrive in growing zones 5 through 9. This pear has been imported to the U.S. primarily from Japan and is most often seen in the Sacramento Valley of California and scattered throughout the fruit orchards of Oregon and Washington states. The Shinseiki adapts well to readily available rootstocks like Bartlett, and typically dwarfs the larger, more robust stock tree sizes.
These very winter hardy pears may tolerate cold to 20 degrees below zero, but are best suited for areas that don't regularly dip below 10 degrees. If you plant a Shinseiki, or any Asian pear, in a colder climate (i.e. the central Pacific pf-northwest), it will be hardiest if it was cultivated on a cold-hardy stock like Old Home; in southern climes, this pear can be grown from almost any stock type.
While growing Asian Pears is a developing plant science, experimental programs conducted by University of California, Davis indicate they do best in one-variety patches in cold climates, and interspersed with other cross-pollinating Asian or European varieties in southern zones.
Cultural Practices and Commercial Viability
Most Asian pears are susceptible to a variety of diseases and pests, all of which can be mostly or entirely controlled by organic cultural practices. For example, fireblight can be managed through pruning the damaged and infected limbs and keeping pruning tools disinfected.
Overly deep soil can cause crown rot, so avoid thick loam. Coddling moth is one Asian pear pest that is likely to require insecticide treatment.
For maximum crop production during early-to-mid-season harvest (July through August in most areas), you'll want to make sure your Shinseiki(s) get ample water, but never have soggy roots in poorly draining soil. They also tend to over flower, so thin bud clusters to leave just a few flowers on each.
Younger trees are likely to produce about 100 fruit, while trees over six-plus years may produce 500-700 pears annually. If you opt for commercial production, expect to sell them for $6.00 to $16.00 per 24 pounds depending on demand in your market.
Pollination Info
Shinseiki Asian Pear Pollination
Shinseiki Asian Pears are self-fertile. You will get fruit with only one plant. However, adding an additional Shinseiki Asian Pear will drastically increase the size of your crop.
Planting & Care
The Shinseiki Asian pear (Pyrus serotina 'Shinseiki') is a small tree only reaching 10-12 feet tall/wide, making for easy harvesting even on a mature tree. Growing in USDA zones 5-9, this tree is cold tolerant and requires less than 300 chill hours so it produces well even in warm southern climates. This firm pear stores well, has a long shelf life, resembles granny smith apples in texture and flavor making them great for baking, salads, or eating fresh off of the tree. The Shinseiki pear is also self fertile, making it an excellent addition to a landscape or orchard as it needs no cross pollinator for fruit to form. One small tree will provide you with years of delicious treats!
Location: Give your pear tree a location that features full sun and well-draining soil. Choose a bright, sheltered location, preferably with southern exposure.
Planting Instructions (in ground):
1) Dig a hole three times the size and just as deep as the root ball. You want to be careful that the tree does not settle too low in the soil.
2) After the hole is dug, carefully loosen and unwind any roots as necessary.
3) Plant the tree so that the roots are spread in the hole and the entire root ball is covered with soil.
4) Fill in the hole completely and gently remove air pockets that may have formed by tamping down with a spade.
5) Water the tree thoroughly after the tree has been planted.
Watering: Water your pear tree as necessary giving it at least 1-2 inches of water, once a week. When the weather gets hot and dry during the peak of summer, increase the amount of water to maintain proper hydration and moisture. Do not water the pear tree after the first frost in the fall. You should resume watering once the last frost has past. Mulching is always a great idea to conserve soil moisture as well as combat competing growth.
Pruning: When pruning, it's important to trim the pear tree's central leader to promote an upright position. If there are any competing branches present, remove them so that multiple leaders do not form. Maintain the tree's natural shape by pruning large, lateral branches. Dead, dying or wilted branches should always be removed to help the pear tree focus its energy on growing healthy and producing an abundance of fruit.
*Tip* It's always good to sterilize your cutting tool(s) with rubbing alcohol to ensure a clean cut that no pathogens can get in.
Pests: Pear trees are susceptible to insects such as maggots, moths, scale and aphids. To prevent infestation of these and other pests, treat with an insecticide in the early spring. Signs of infestation to be watchful for include: yellowing or browning of foliage, rotted or eaten fruit and nibbled leaves. Spray the tree with the insecticide according to the directions on the label.
Tips:
*Harvest pears at the end of the growing season (October-November). Watch the fruit regularly, as it will require two to three weeks to harden before harvest.
*Pick pears when they have reached full color and size and are firm to the touch. Check the tree daily and pick fruit every two to three days until your harvest is complete.
*If applying an insecticide WAIT until evening when your pollinators will not be active on the tree. Bees are fastly becoming scarce, avoid harming them with insecticides by waiting until after they have all gone for the day.
Shipping Details
Estimated Shipping Time: Most orders ship immediately. As noted on the website, some items are seasonal, and may only ship in spring or fall. Once your order is shipped, you'll receive an email with a tracking number.
| Amount of Order | Shipping Charge |
| --- | --- |
| Less than $129 | $19.95 |
| $129 + | FREE SHIPPING! |
| | |
| --- | --- |
| Mature Height: | 10-12 ft. |
| Mature Width: | 12-15 ft. |
| Sunlight: | Full-Partial |
| Growth Rate: | Moderate |
| Harvest Time: | August |
| Year to Bear: | Can Fruit the 1st Year! |
| Botanical Name: | Pyrus serotina 'Shinseiki' |
| Does Not Ship To: | AR,AZ,CA,ID,LA,WA |
| Grows Well In Zones: | 5-9 outdoors |
| Your Growing Zone: | # |
Growing Zones: 5-9 outdoors
(hardy down to -10℉)
Customer

Reviews

& Photos

Customer Reviews

100

reviewers would recommend this product

Write a Review

Ask a Question

Filter Reviews:
leaves
condition
tree
ground
weather
customer service
folks
quality
neighbor
picture
10/13/2022
Renee C.

United States
I recommend this product
It came with a pear
Very exciting! It showed up in good condition & ready to plant! So far they are doing well...
04/14/2022
Kurt M.

United States
I recommend this product
Very satisfied with purchase
Tree came securely packaged, roots packed in pot with soil. Pruned and ready to plant. After two weeks in the ground, leaves are beginning to open up.
04/12/2022
Larry E.

United States
I recommend this product
Pear
Arrived early and was exactly what I expected
12/23/2021
Randal S.

United States
I recommend this product
Shinseike Pear
That is still to be determined. When I recieved it , it has no leaves. I took a picture of it but I am trying to see what it is going to do.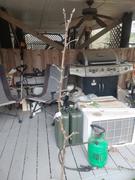 12/29/2021
Fast-Growing-Trees.com
Your tree is dormant which is completely normal this time of year! There are lots of buds so as your weather warms up in Spring, you'll see an abundance of beautiful, new growth!
10/26/2021
Paul L.

United States
I recommend this product
Fast Shipment
Arrived in Good condition