---
Product Details
| | |
| --- | --- |
| Mature Height: | 8-12 ft. |
| Mature Width: | 6-8 ft. |
| Sunlight: | Part Sun (4 hours minimum) or Full Sun |
| Growth Rate: | Moderate |
| Botanical Name: | Cercis Canadensis 'JN2' |
| Does Not Ship To: | AZ |
| Grows Well In Zones: | 5-9 outdoors |
| You are in Growing Zone: | # |
Growing Zones: 5-9 outdoors
(hardy down to -10℉)
Product Description
Best Gold Leaf Redbud on the Market

Why Rising Sun™ Eastern Redbud Trees?
Shining like a beacon of beauty in your landscape, The Rising Sun™ Eastern Redbud sets the spring season alight with gorgeous fuchsia blooms, vivid green-gold foliage, and full, vigorous growth that's second to none. Also known as the Judas Tree, this Redbud transforms your yard as nothing else can.
You've never seen a Redbud like this before. Its symmetrical silhouette and dimensional stacked foliage stand up to heat, drought, and cold...and through it all, the Rising Sun™ attracts graceful wildlife like birds and butterflies to your garden.
In fact, its foliage is as lovely as it blooms. In fact, from a short distance, the mix of golden and green leaves look like blooms themselves. The sturdy branches hoist tons of large, heart-shaped leaves that almost appear pinned onto the tree in layers. It's a vision of beauty you won't find anywhere else.
Aptly named, the Redbud's leaves start out a golden yellow, giving way to a peach hue. And before the sun ever rises on your tree, the Redbud's flowers will emerge with vibrant color throughout the branches. The show begins early in the spring as waves of pea-like, fuchsia blooms pour onto the tree. Once the foliage arrives, the color scheme lasts well into the fall when the leaves turn an incredible orange.
Why Fast-Growing-Trees.com is Better
But the best part about The Rising Sun™ Eastern Redbud Tree? When you order your Redbud Tree from Fast Growing Trees, you can rest assured that you get a tree that's made to last...because we plant, monitor, and ship your tree with care.
Unlike chain garden centers, we put in the extra work to meticulously nurture your tree and ensure it's a proven performer.
Your Rising Sun™ is delivered in a pot with well-developed roots, so it's grown to give you amazing results, year after year.
That means none of the work and hassle but all of the beauty for seasons to come. But don't wait...get your Rising Sun™ Eastern Redbud today!
Planting & Care
1. Planting: Select a site that's 6 to 8 feet from existing structures and about 3 feet from fences. Clear a 5-foot radius of any competing plants, weeds, or grass.
Dig a planting hole for the redbud twice as wide as the diameter and as deep as the depth of the root ball. Rub the root system to loosen the outer roots. Fill the hole halfway with the removed soil and top it off with water. Fill it in the rest of the way and water again to settle the soil, using a total of about 15 gallons of water.
Spread 3 to 4 inches of mulch over the planting site but be sure it's about 4 inches away from the base of the trunk to prevent fungus and rot. Mulch conserves water in the soil, adds nutrients as it breaks down and aids in weed prevention.
2. Watering: During the first year, make sure to water your tree often enough to keep its soil moist yet not soaked. Water later in the evening after the heat of the day has subsided.
3. Fertilizing: In early spring, you can apply some compost and/or a complete fertilizer such as 5-10-5 in granular form. Spread evenly around the root zone of the plant according to the label instructions.
4. Pruning: Prune the tree in early summer after the tree is done blooming. Begin by removing any larger lower branches and branches that cross over each other or rub together. Cut off the branches close to the trunk without leaving any stubs.

Shipping Details
Shipping Alert:
You can still order, but due to cold weather, we have delayed shipping to the areas shaded on the map below. We want your new plant to thrive right out of the box, so we will wait on shipping your order until the weather is ideal. This includes anyone in Growing Zones 3, 4, 5 & 6. If you are unsure of your growing zone, visit our Growing Zone Finder.

Some plants are not available for immediate shipment, and delayed delivery is noted.

We will resume normal shipping in the Spring. Please see the table below for your approximate ship date.
| | | |
| --- | --- | --- |
| | Growing Zone | Shipping Resumes |
| | Zones 3 & 4 | Week of May 3rd |
| | Zone 5 | Week of April 10th |
| | Zone 6 | Week of March 29th |
| | Zones 7 - 11 | Ships Now! |
Estimated Shipping Time: Most orders ship immediately. As noted on the website, some items are seasonal, and may only ship in spring or fall. Once your order is shipped, you'll receive an email with a tracking number.
| Amount of Order | Shipping Charge |
| --- | --- |
| Less than $15 | $11.95 |
| $15.00-$23.99 | $13.95 |
| $24.00-$39.99 | $16.95 |
| $40.00-$79.99 | $19.95 |
| $80.00-$98.99 | $24.95 |
| $99.00-$118.99 | $29.95 |
| $119.00-$148.99 | $39.95 |
| $149 + | FREE SHIPPING! |
Customer

Reviews

& Photos

Customer Reviews

Write a Review

Ask a Question

Filter Reviews:
tree
leaves
buds
delivery
shipping
condition
packaging
shape
star
branches
11/16/2020
Susanna A.
United States
I recommend this product
The Rising Sun Eastern Redbud
It was good. It arrived fast. I could install it for my customer and now I hope that she will take care of it. It was very cute and I can't wait to see how it'll grow over time.
10/23/2020
Carolyn R.
United States
I recommend this product
Tree
I really love the tree so far. It's getting cold here, so I hope it will look as good in the spring.
10/05/2020
Erwin L.
United States
I recommend this product
Tree
Good. A few of the top smaller limbs were ******, but the rest of the tree good. Still has leaves on it so we know what it will look like in the spring.
09/18/2020
Eric J.
United States
I recommend this product
Beautiful tree so far.
I originally ordered this in March and thanks to Covid and Fed-Ex it sat on a truck for one month. Fast ******* Trees customer support was great and gave me a credit to reorder. We had to wait until Fall stock to get our new tree. New tree arrived very fast, within three days. Great looking tree. Can't wait to see it next spring in bloom.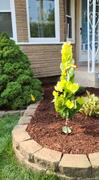 07/24/2020
Natalie L.
United States
I recommend this product
The Rising Sun Redbud tree is a beautiful tree.
The area I need to plant it in had ground kill put on it this year so I made it a patio tree for now. I will plant it in the Spring. It is a nice tree.