---
Product Details
| | |
| --- | --- |
| Mature Height: | 15-20 ft. |
| Mature Width: | 15-20 ft. |
| Sunlight: | Full Sun |
| Growth Rate: | Moderate |
| Harvest Time: | September - October |
| Botanical Name: | Malus x 'Prairifire' |
| Does Not Ship To: | AZ, CA, ID, OR |
| Grows Well In Zones: | 4-8 outdoors |
| You are in Growing Zone: | # |
Growing Zones: 4-8 outdoors
(hardy down to -20℉)
Product Description
Stunning Good Looks, Month to Month
Why Prairifire Crabapple Trees?
The Prairifire Crabapple is showy all year long. Plant several along your driveway and create a grand entrance for your guests, no matter what time of year they arrive.
You'll get a rush of warm color in the spring. The spring months deliver gorgeous purple and red leaves to the Prairifire Crabapple, while tons of pink-magenta flowers welcome vibrant color. While your neighbors' yards fade in the summer heat, your Prairifire will still bring magnificent warm hues to your landscape.
Even in winter, this tree still brings warmth to your yard. The bark of the Prarifire is a mix of gray and deep orange, with cherry-like berries that persist into the chilly months. As the first frost hits your region, the Prairifire still manages to stand out and add warmth.
And there's no mess left for you to clean up. The birds love this tree so much that you won't have to worry about fruit falling on your lawn. You can enjoy the beauty of this tree without worrying about withered fruit littered on your grass.
Most Crabapples succumb to disease after several years, but the Prairifire stands strong. So, you don't have to worry about keeping a constant eye for pests and ailments, and you won't have to use harsh chemicals or sprays.
Why Fast-Growing-Trees.com is Better
But the best part about your Prairifire? We've planted and grown your tree at our nursery for months, long before it ships. Now, you get a well-developed root system (no bare root!) and more mature branching than ever before.
The Prairifire Crabapple is an easy choice. If you're looking for beauty and warmth, look no further. The Prairifire Crabapple Tree merges the features of your favorite focal point trees into one easy package...get yours today!
Pollination Info
Prairifire Crabapple Tree Pollination
Prairifire Crabapple Trees are self-fertile. You will get fruit with only one plant. However, adding an additional Prairifire Crabapple Tree will drastically increase the size of your crop.
Planting & Care
1. Planting: The Prarifire Crabapple will perform best in well-drained soil that is mildly acidic. Place in a spot in your yard that receives full, unfiltered sun.
Once you've selected your location, dig a hole that's large enough to accommodate the root ball, place your tree and backfill the soil. Finally, water the surrounding area to settle the roots.
2. Watering: If you live in a hot or dry area, water your Prairifire twice a week. Crabapples in moderate climates can survive on rainfall alone. But if you're not sure when to water, simply check the surrounding soil about 3 inches down for dryness.
3. Fertilizing: Add a 5-5-5 fertilizer in early spring each year.
4. Pruning: The best time to prune your Prairifire is at the end of spring before the summer buds arrive. Remove any dead or damaged branches, crossing branches or crowded sections that prevent airflow.
Shipping Details
Estimated Shipping Time: Most orders ship immediately. As noted on the website, some items are seasonal, and may only ship in spring or fall. Once your order is shipped, you'll receive an email with a tracking number.
| Amount of Order | Shipping Charge |
| --- | --- |
| Less than $15 | $11.95 |
| $15.00-$23.99 | $13.95 |
| $24.00-$39.99 | $16.95 |
| $40.00-$79.99 | $19.95 |
| $80.00-$98.99 | $24.95 |
| $99.00-$128.99 | $29.95 |
| $129.00-$148.99 | $39.95 |
| $149.00-$178.99 | $49.95 |
| $179 + | FREE SHIPPING! |
Customer

Reviews

& Photos

Customer Reviews

Write a Review

Ask a Question

Filter Reviews:
tree
leaves
condition
ground
photo
size
shipping
shape
experience
picture
05/07/2021
Anonymous

United States
Very Happy Customer!
Securely packaged, with growing leaves and since planted. I can't wait for it to bloom. I could not find anything remotely comparable near me, so I greatly appreciate having this website available to meet my gardening needs.
05/04/2021
Anonymous

United States
Prairfire Crabapple tree.
I was very pleased . The tree was very healthy looking and full of foliage. I can't wait for it to grow to full size and see the beautiful blooms. True to size. I would buy again from this company.
05/04/2021
Kyle

United States
Great packaging, wonderful size
I ordered the 6-7 ft tree. It came well packaged and the size is as advertised. A lot of the leaves have spots and don't look great but that's obviously only due to transit. It's been in the ground a few weeks now and is putting on new leaf growth! Really happy with my purchase and especially the great customer service, they always answer your questions and concerns and are willing to make sure you are taken care of. Photo attached is right after we planted it. Excited to watch it grow over the years!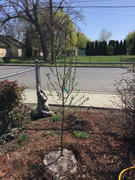 05/04/2021
Katie M.

United States
So far so good!
It is still brand new in the ground so I will post when its a few months old
05/04/2021
John R.

United States