Product Details
Growing Zones: 5-8 outdoors
(hardy down to -10℉)
This plant may not thrive in your area
5-8 outdoors
Mature Height:

4-6 ft.

Mature Width:

3-5 ft.

Sunlight:

Full-Partial

Growth Rate:

Slow

Botanical Name:

Buxus 'Green Velvet'

Does Not Ship To:

AZ, TN
Product Description
Lively Emerald Foliage Offers Vibrant Texture
Why Green Velvet Boxwood Shrubs?
Appearing almost velvety to the eye, the Green Velvet Boxwood Shrub makes a rich impression. This sparkling evergreen is aptly named, with its display of old growth in darker shades of green, and its new growth shining brightly in vivid shades of light green that adds texture, depth and dimension.
Plus, it grows in a natural sphere. Add one or multiple shrubs to an existing garden, or grouping.  They're perfectly suited to enhance both casual and formal settings, and the Green Velvets are easygoing...with pest resistance, disease resistance and sturdy, adaptable growth that even stands up to deer. Urban smog, changing climates, and drought won't harm it either. 
Why Fast-Growing-Trees.com is Better
Our hybrid Green Velvet Boxwood is better because we've planted, grown and shipped it for absolutely amazing results. You get a well-rooted, easy-to-grow variety that's delivered right to your door - no need to visit big box or haul cumbersome, dirty plants in your backseat. We've done the hard work so you don't have to.
Thanks to being super hardy and requiring next to no care, our Velvet Green Boxwood is an extremely popular shrub and sells out fast. Order yours today!
Customer

Reviews

& Photos
Customer Reviews
07/29/2019
Anonymous
United States
Great packaging
They're perfect
06/21/2019
Anonymous
United States
Planted in solid clay and doing great!
Terrific plants. I planted them almost a month ago in an area that is almost all clay and they are doing very well. Planting tip - Dig the hole twice to three times as big as the root ball Fill the hole with water. Pour in your planting soil and create a soup- I use a mixture of bagged planting soil and compost. Let the water receed and fill the whole again. Take the soil mixture and build the walls up with and pull some out to top it off. Gently open up the root ball so it is not so compact. Place bush, tree or plant so the top of the root ball is slightly above the level of the ground. Fill it in, talk to it, and then top it off with compost and mulch. Water it regularly and talk to it!:) I rarely loose a plant.
Plantings Arrived To Early
I placed the order for plantings on March 22 expecting them to ship when temps finally warmed enough with no threat of snow. We had temps in the teens all the way thru mid April and accumulating snow the evening of the 14th leaving 2+ inches for April 15 snowed again on the 16th and again on the 19th. This weather was all foretasted but "Fast-Growing-Trees obviously did not look at the weather for Northern Illinois prior to shipping as our plantings arrived on April 14th. I called and was told to keep the plantings in a cool dark space - not so easy when our garage & barn are heated and everything outside was in the teens during the evening and 20's during the day. I cracked open the service door for our garage allowing the cold air in and kept the planting in a bucket close to that door for a couple of weeks and was able to plant the first week of May. The plantings (Boxwood's) look as if they were not affected by the drawn-out / extended period in the bucket and seem to be doing fine today. (May 12th)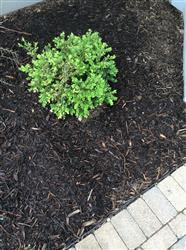 Small size is too small.
I'm glad they are growing up.
Planting & Care
1. Planting: Choose a location where your Green Velvet Boxwood will receive full or partial sunlight. If you live in an area that gets very hot, they will do best when given some afternoon shade and well-drained soil.
When you're ready to plant, dig a hole the same depth as the root ball and twice as wide. Place the Green Velvet upright into the hole, ensuring it is straight, and begin to back fill the hole, watering every couple inches to prevent air pockets from forming. To help retain moisture in the soil and deter weed growth, apply a 2- to 3-inch deep layer of mulch around the base of the boxwood, extending 12 inches past the foliage. 
2. Watering: Water the Green Velvet Boxwood deeply to ensure the roots are getting adequate moisture. The soil should stay moist but not saturated - generally, this requires watering once or twice weekly. Once it has established, it will need a weekly watering during periods of drought or extreme heat.
3. Fertilizing: Apply a balanced shrub fertilizer formula such as 10-10-10 in spring, before the start of new growth. 
4. Pruning: These can be pruned in a rounded shape or allowed to grow naturally. Pruning should only be done after any danger of frost has passed in the spring.
Shipping Details
Most items ship the next business day unless otherwise noted
Estimated Shipping Time: Most orders ship immediately, however some orders may ship in 1-2 business days (we do not ship on the weekends) from date of purchase. As noted on the website, some items are seasonal, and may only ship in spring or fall. Once your order is shipped, you'll receive an email with a tracking number.
| Amount of Order | Shipping Charge |
| --- | --- |
| Less than $15 | $11.95 |
| $15.00-$23.99 | $13.95 |
| $24.00-$39.99 | $16.95 |
| $40.00-$79.99 | $19.95 |
| $80.00-$98.99 | $24.95 |
| $99.00-$118.99 | $29.95 |
| $119+ | Free Shipping! |
Shipping Alert:
You can still order, but due to cold weather, we have delayed shipping to the areas shaded on the map below. We want your new plant to thrive right out of the box, so we will wait on shipping your order until the weather is ideal. This includes anyone in Growing Zones 3 - 6. If you are unsure of your growing zone, visit our Growing Zone Finder.

Some plants are not available for immediate shipment, and delayed delivery is noted.

We will resume normal shipping in the Spring. Please see the table below for your approximate ship date.
| | | |
| --- | --- | --- |
| | Growing Zone | Shipping Resumes |
| | Zones 3 & 4 | Week of May 4th |
| | Zone 5 | Week of April 13th |
| | Zone 6 | Week of March 30th |
| | Zones 7 - 11 | Ships Now! |