6596553343038
TRM-PNK-23_3
* Images shown are of mature plants
My FGT Yard Planner
You'll need to log in or create an account in order to save this item
Have Questions? Call Now
---
Easy Tropical Growth and Unbeatable Color

Why Pink Trumpet Trees?
Add a gorgeous, tropical specimen tree to your landscape with the Pink Trumpet Tree. The Pink Trumpet, or Tabebuia heterophylla, is a long-lived tree with a neat, pyramidal habit and a spectacular display of bright pink blooms.
The Pink Trumpet adds unbeatable color to warm-weather landscapes, with a carpet of showy pink flowers that bloom from spring through summer, covering the tree. Vibrant, bell-shaped flowers are offset by warm, sunny-yellow centers. And while this semi-evergreen maintains its glossy foliage for most of the year, it will drop its leaves briefly before flowering.
And while this tree loves the warmth and humidity of tropical climates, it's low-maintenance and easy to grow. It's tolerant of nearly any well-draining soil, with impressive resistance to drought and urban conditions. Live in a cooler climate? No problem. Just plant your Pink Trumpet Tree in a container and overwinter it indoors.
A moderate grower, the Pink Trumpet Tree perfect for planting in tough areas with limited space, including along streets or close to driveways. It will also thrive in containers, adding vibrant color to patios and porches!
Why FastGrowingTrees.com is Better
You won't find this unique tropical tree at your local nursery or garden center. And the best part? When you order your Pink Trumpet Tree from FastGrowingTrees.com, you benefit from our tried-and-true process. We nurture, grow and ship your Pink Trumpet Tree with care, so you get a well-developed tree that delivers results, year after year.
Other nurseries offer bare-root varieties. But with FastGrowingTrees.com, you get a Pink Trumpet Tree with robust roots and better branching, that's ready to thrive in your landscape on day one.
Add vibrant tropical color to your yard with this easy-growing tree. Get your Pink Trumpet Tree today!
Planting & Care
1. Planting: The Pink Trumpet Tree is a full sun lover (6 to 8 hours of sunlight per day) that prefers well-drained soil - however, it can tolerate a range of different soil conditions. It's also a tropical tree, so it will thrive in zones 10-11.
Plant your Pink Trumpet Tree in a hole that is twice the width of the root ball, and just as deep. Place your tree and begin backfilling the hole, tamping down as you go to prevent air pockets. Place a thick layer of mulch over the planting area to protect the roots from fluctuating temperatures, as well as help the tree to conserve water. Finally, water the tree well to saturate the entire planting area.
If you live outside growing zones 10-11, you can plant your Pink Trumpet Tree in a container, moving it indoors when temperatures drop to 50 degrees. Select a container 1-2 sizes larger than its shipped container, place your plant, and backfill with potting mix.
2. Watering: Your Pink Trumpet Tree will exhibit impressive drought tolerance once established. While establishing, water once or twice weekly. Once established, the trees will only need water during times of extreme drought. Water container-planted Pink Trumpet Trees more regularly.
3. Fertilizing: Pink Trumpet Trees need very little fertilizer, but if you want to speed up growth, you can use a well balanced, slow-release formula, such a 10-10-10, in early spring.
4. Pruning: Your Pink Trumpet Tree will naturally grow into a neat, pyramidal form. However, you can prune to encourage high, arching branches by removing lower, drooping branches.
Shipping Details
Estimated Shipping Time: Most orders ship immediately. As noted on the website, some items are seasonal, and may only ship in spring or fall. Once your order is shipped, you'll receive an email with a tracking number.
| Amount of Order | Shipping Charge |
| --- | --- |
| Less than $125 | $19.95 |
| $125 + | FREE SHIPPING! |
| | |
| --- | --- |
| Mature Height: | 30 ft. |
| Mature Width: | 15-25 ft. |
| Sunlight: | Full Sun |
| Growth Rate: | Moderate |
| Botanical Name: | Tabebuia heterophylla |
| Does Not Ship To: | AZ |
| Grows Well In Zones: | 4-11 patio / 10-11 outdoors |
| Your Growing Zone: | # |
Growing Zones: 4-11 patio / 10-11 outdoors
(hardy down to 30℉)
Customer

Reviews

& Photos

Customer Reviews

Write a Review

Ask a Question

Filter Reviews:
blooms
trees
shipping pot
pink trumpet
leaf growth
ground
service
shape
everything
flowers
04/18/2022
jo

United States
I recommend this product
Already Blooming
I've had this 3ft tree for about three weeks now It arrived well packed and in good shape. I didn't plant it right away, it stayed in its shipping pot for about a week before I planted it. It already has 2 blooms and new leaf growth. I've purchased several trees from FGT and will continue to do so because everything I've ordered from them has arrived in good shape and thrives once its planted.
04/18/2022
Jo

United States
I recommend this product
Already blooming
I've purchased several trees from fgt and this pink trumpet was my latest. It came quickly and well packed. I didn't plant it right away, it stayed in its shipping pot about 10 days before I put it in the ground. It's been planted for about 10 days and already it has 2 blooms. I can't wait for it to grow and have more flowers, they are beautiful! Highly recommend!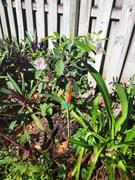 10/29/2021
Anonymous

United States
I recommend this product
Beautiful tree
Great service. Can't wait for all the beautiful blooms!