Product Details
Growing Zones: 4-9 outdoors
(hardy down to -20℉)
4-9 outdoors
Mature Height:

15-20 ft.

Mature Width:

10-15 ft.

Sunlight:

Full-Partial

Growth Rate:

Moderate

Botanical Name:

Prunus cerasefera

Does Not Ship To:

AZ, AR, CA, ID, LA, WA
Product Description
Add an explosion of color to your landscape
The Krauter Vesuvius Plum, or the 'KV Plum', is quickly growing in popularity because it has multiple seasons of head turning color to stand out as the prettiest tree in the neighborhood, and they also produce tons of delicious cherry plums.
In the spring, Krauter Vesuvius leaves emerge with a unique shade of dark purple that they keep all season, then hundreds of soft pink blossoms erupt all over the canopy to create a stunning display of contrasting colors. In the fall, bright red plums about the size of cherries brighten up the landscape even more.
By only growing 15 to 20 feet, the Krauter Vesuvius Plum tree can fit anywhere, even in yards with limited space. Their perfectly oval shaped canopies add ornamental value to the landscape, and also provide shade to relax in. You can strategically place your plum trees by your drive way or home to keep certain areas cool during summer days with blistering heat.
Krauter Vesuvius Plums are recommended for growing zones 4 through 9, meaning they will thrive during the extremely cold and snowy winters up north as well as the hot and dry climates down south.
While being cold hardy and drought tolerant, this plum variety is most importantly smog and pollution tolerant. They are an excellent choice for large urban areas and will filter and clean toxins out of the air so you can breathe easy while enjoying the Krauter Vesuvius's vivid color and irresistible cherry plums.
Customer

Reviews

& Photos

Customer Reviews

Write a Review

Ask a Question

Filter Reviews:
tree
trees
water
growth
fruit
size
order
trunk
shape
branches
03/23/2020
Deborah P.
United States
I recommend this product
KV flowering plum
Beautiful tree incredibly packed. It is planted and has new growth I could not be happier I will not buy my trees anywhere else.
08/05/2019
Anonymous
United States
Thriving
I am so pleased with the flowering plum tree that I purchased from you. Shortly after I planted it, new branches started emerging! I can't wait to see how much it grows next year, and look forward to eating it's delicious fruit!
07/27/2019
gail o.
United States
Sure hope this tree grows fast!
Healthy tree with a straight trunk but the trunk is quite small (about the size of 3 pencils bound together) in diameter. It is going to take many years before this is a substantial tree.
06/22/2019
Teanna S.
United States
Happy
Great experience, easy to order & easy instructions. Received my flowering plum cherry tree quicker tg3an I expected. Arrived in perfect condition & OMG the color of the leaves!! Am going to die in anticipation of this gorgeous tree maturing. I have no shade trees & desperately needed a tree to help shade my house & backyard for my 2yr old from this hot Florida sun so hopefully it really is a fast growing tree. Very satisfied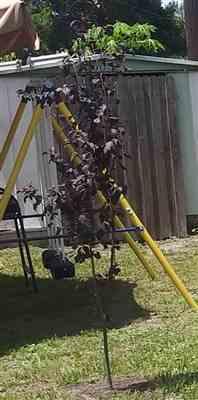 06/09/2019
Anonymous
United States
1st year
We putchased two of the KV Flowering Plum trees. They arrived in really good shape and we got the planted in two days. They are currently doing quite well. We will see how they are doing next year which will be the real answer.
Planting & Care
Choosing a location: Your flowering plum tree will prefer a full sun location but will do well if planted where it will receive morning sun and afternoon shade. The tree will not grow as quickly if there is too much shade. They are non-invasive which makes them a great option for planting close to your home but avoid areas of standing water and poor drainage.
Planting directions: The KV is known to be an air filtration tree cleaning the toxins from the air so they can be planted close to a road without fear of pollution causing them harm.
1) Make your hole twice the width of the root ball and just as deep.
2) Gently comb the edges of the root ball to free up the roots a bit and position them downward in the hole so they can establish properly.
3) As you begin to backfill the hole, stop every so often to add water. This will help settle the soil and prevent air pockets from forming.
4) Spread a 3 inch layer of organic mulch every spring season. It breaks down each year so it will need to be renewed.
Watering: Provide adequate watering for the first couple seasons to be sure the tree establishes itself properly. It will need to be watered weekly, but you may need to do it a bit more often in the hotter season. Take care not to over do it, the flowering plum is quite adaptable but is susceptible to root rot if the soil becomes overly saturated. Mulching helps retain the soil moisture while keeping competitive weeds at bay.
Pruning: KV Plums have a naturally rounded shape that will not require regular pruning but an annual trimming of the branch tips will encourage dense growth and more branching. Prune during the winter dormant months at a 45 degree angle using a sterilized pair of cutters. You can use a household rubbing alcohol to clean your cutting tool.
Fertilizing: Feed your tree in the spring with a general, all purpose fertilizer before the new growth starts.
Pests and problems: The KV plum is indeed a beautiful tree but may encounter an occasional issue with fungus such as powdery mildew and leaf spot. They rarely will harm the tree but can be avoided by making sure you clear away fallen leaves and debris. Also try to water right at the base of the tree to prevent fungus issues from forming.
Borers, aphids and leafhoppers can cause brown foliage and a loss of new growth but can be controlled. Horticultural oil can be used to control the borers. Neem oil and insecticidal soap can treat the aphids and other soft-bodied pests.
Shipping Details
Most items ship the next business day unless otherwise noted
Estimated Shipping Time: Most orders ship immediately, however some orders may ship in 1-2 business days (we do not ship on the weekends) from date of purchase. As noted on the website, some items are seasonal, and may only ship in spring or fall. Once your order is shipped, you'll receive an email with a tracking number.
| Amount of Order | Shipping Charge |
| --- | --- |
| Less than $15 | $11.95 |
| $15.00-$23.99 | $13.95 |
| $24.00-$39.99 | $16.95 |
| $40.00-$79.99 | $19.95 |
| $80.00-$98.99 | $24.95 |
| $99.00-$118.99 | $24.95 |
| $119 + | FREE SHIPPING! |
Shipping Alert:
You can still order, but due to cold weather, we have delayed shipping to the areas shaded on the map below. We want your new plant to thrive right out of the box, so we will wait on shipping your order until the weather is ideal. This includes anyone in Growing Zones 3 - 5. If you are unsure of your growing zone, visit our Growing Zone Finder.

Some plants are not available for immediate shipment, and delayed delivery is noted.

We will resume normal shipping in the Spring. Please see the table below for your approximate ship date.
| | | |
| --- | --- | --- |
| | Growing Zone | Shipping Resumes |
| | Zones 3 & 4 | Week of May 4th |
| | Zone 5 | Week of April 13th |
| | Zones 6 - 11 | Ships Now! |