* Images shown are of mature plants
---
Product Details
| | |
| --- | --- |
| Mature Height: | 20 ft. |
| Mature Width: | 15 ft. |
| Sunlight: | Full Sun |
| Growth Rate: | Fast |
| Botanical Name: | Albizia julibrissin |
| Does Not Ship To: | AZ, FL |
| Grows Well In Zones: | 7-9 outdoors |
| You are in Growing Zone: | # |
Growing Zones: 7-9 outdoors
(hardy down to 10℉)
Product Description
Tropical Feel + Pink, Showy Blooms
These Mimosa trees provide colorful shows for months, while giving yards an elegant and tropical feel. Each spring green leaves emerge that come together in a V shape and the multiple short leaves provide the zen of an Asian garden.

As the summer heats up the green leaves fade into a dark burgundy color, that's unique and eye catching, it will make your yard look like it's a part of an oriental jungle. The dark foliage will pop against the other green trees, and bright blooming plants in your landscape.

Late in the spring breath taking fuzzy pink blooms will emerge in clusters all over your Mimosa tree. The hot pink blooms stand out against both the burgundy foliage, attracting attention from all over the neighborhood. Your neighbors probably haven't seen beautiful fuzzy blooms like these before.

Not only do these blooms provide enchanting color, but they attract birds and wildlife as well. Hummingbirds are especially known to be attracted to the fragrant blossoms. Plant a few trees around your deck, or in view from your favorite window and watch graceful hummingbirds come to check out the blooms all summer.

Summer Chocolate Mimosa trees are drought hardy, and extremely easy to grow. These low maintenance trees will even thrive in many different varieties of poor soil. Simply plant them and be astonished by months of color before you know it.

Due to the unique color combinations that these trees provide, they sell out fast. We recommend getting yours before they're gone.
Planting & Care
The Summer Chocolate Mimosa tree (Albizia julibrissin 'Summer Chocolate' ) is an extremely showy, flowering tree that provides months of colorful blooms. This fast growing, full sun loving tree is drought tolerant and isn't as large at maturity as the normal Mimosa tree type. The Summer Chocolate Mimosa will mature to a height of about 20 feet tall and about 15 feet wide which makes it a lot easier to fit landscapes, more so than it's larger sibling. The Summer Chocolate Mimosa is prized for its burgundy foliage that makes the fuzzy pink blooms stand out just that much more in contrast. Best suite for USDA growing zones 7-9 the mimosa is bound to have a lot passersby attention from its unique foliage and growth pattern. The tree is also sought after for its low maintenance needs, simply plant and water as needed and the tree will flourish!
Planting instructions:
1) Your location should have well draining soil and receive full sunlight.
2) Dig your hole twice as wide as the root ball and just as deep. This will allow the roots to spread through the loosened soil in the early stages.
3) Mix in peat moss with the soil removed from the hole with ratio of one part peat moss to four parts soil. Sphagnum peat moss will aid in the fertility and drainage of the soil.
4) Insert the tree into the planting hole and gently spread the roots by combing them with your hands.
5) Gradually back-fill your hole with the amended soil and gently firm the soil down with a shovel. Make sure not to pile higher than the soil level, or crown, where the tree's roots meet the trunk.
6) Water your planting site deeply with a slow trickling hose. You'll want to water enough in order to saturate down to about an inch below the soil.
Watering: It's very important that you water your mimosa tree sparingly. The need for watering should only be during excessive dry spells. The peat moss soil mixture will assist with drainage since the tree will not do well with excess water. A steady flow of water from a hose for about 10-15 minutes once every two weeks should be enough. Anything more than that results in diseases related to over watering, like root rot.
Fertilizing: When fertilizing your mimosa tree select an all-natural, organic, slow-release tree fertilizer. Fertilize in the early part of the spring growing season when it's not too hot or cold. Check your forecast to be sure no heavy rainfall will occur within a couple of days of applying the fertilizer. Excessive rain could wash away a lot of the slow-releasing fertilizer. Apply to the soil according to the package instructions. Slow-release is granular or pelletized and can be sprinkled around the planting site. Water will gradually soak the nutrients into the soil where your mimosa tree will absorb them over time. Other forms of slow-release fertilizers can be in the form of stakes that insert into the ground near the tree or in a liquid form that can be applied using a sprayer. Water after applying your fertilizer to prevent salt build up, which can burn the tree.
Pruning: Your mimosa tree will not require very much attention but could benefit from some minor pruning in the fall season. Remove branches growing along the lower trunk area at a 45-degree angle with sterilized pruning shears just beyond the neck collar (where the limb connects to the trunk). Cutting the neck collar can damage the tree. Removing the lower limbs encourages more growth towards the top of the tree. A pole saw is useful for removing dead limbs, for pruning branches out of reach and for forming the shape of your mimosa's canopy. Thinner branches should be cut 3-5 inches from the end of the limb to promote thicker canopy growth.
*Tip: Sterilize your tools after each cut to prevent contamination. Antibacterial soap and/or rubbing alcohol are perfect for cleaning your tools.
Mimosa trees are not only known for their splendid feathery blooms but also for the enchanting smell the blooms produce. "Albizia Calm" is the extract derived from mimosa trees that is known to support mental calmness. A healing salve can also be made from the mimosa tree and it is primarily used in the treatment of skin irritation and burns. The leaves of your mimosa tree can also be collected and used as a tea that soothes mouth soreness. Mimosa trees are very low maintenance, a delight for the senses and a beautiful addition for your landscape.
Shipping Details
Shipping Alert:
You can still order, but due to cold weather, we have delayed shipping to the areas shaded on the map below. We want your new plant to thrive right out of the box, so we will wait on shipping your order until the weather is ideal. This includes anyone in Growing Zones 3, 4, 5, & 6. If you are unsure of your growing zone, visit our Growing Zone Finder.

Some plants are not available for immediate shipment, and delayed delivery is noted.

We will resume normal shipping in the Spring. Please see the table below for your approximate ship date.
| | | |
| --- | --- | --- |
| | Growing Zone | Shipping Resumes |
| | Zones 3 & 4 | Week of May 2nd |
| | Zone 5 | Week of April 11th |
| | Zone 6 | Week of March 28th |
| | Zones 6 - 11 | Ships Now! |
Estimated Shipping Time: Most orders ship immediately. As noted on the website, some items are seasonal, and may only ship in spring or fall. Once your order is shipped, you'll receive an email with a tracking number.
| Amount of Order | Shipping Charge |
| --- | --- |
| Less than $15 | $11.95 |
| $15.00-$23.99 | $13.95 |
| $24.00-$39.99 | $16.95 |
| $40.00-$78.99 | $19.95 |
| $79.00-$98.99 | $24.95 |
| $99.00-$128.99 | $29.95 |
| $129.00-$148.99 | $39.95 |
| $149.00-$178.99 | $49.95 |
| $179 + | FREE SHIPPING! |
Customer

Reviews

& Photos

Customer Reviews

Write a Review

Ask a Question

Filter Reviews:
tree
ground
delivery
leaves
company
branches
customer service
season
condition
issues
08/17/2021
Anonymous

United States
08/03/2021
Anonymous

United States
07/22/2021
Anonymous

United States
They vary in color...
I have bought several of these in the past. Some are far more dark purple than others. This current one I have has grown almost 2ft in the first year but it's not very purple. The last one I had bought before I moved was a much darker purple color. Both received a significant amount of sun - about the same and the previous one was much prettier but this one has grown faster. Overall I'd highly recommend them.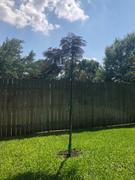 08/05/2021
Gabriella B.

United States
Unfortunately both trees received lost their branches during shipping. They were all fallen off into the shipping box. They are just now starting to come alive.
08/10/2021
Fast-Growing-Trees.com
We're so sorry to hear how your trees arrived but glad they seem to be doing well! Please reach out to us with any questions or concerns!