Product Details
Growing Zones: 4-9 outdoors
(hardy down to -20℉)
4-9 outdoors
Mature Height:

20-30 ft.

Mature Width:

20-30 ft.

Sunlight:

Full-Partial

Growth Rate:

Moderate

Botanical Name:

Prunus subhirtella var. pendula

Does Not Ship To:

AZ, CA, WA
Product Description
Weeping Branches, Bright Blooms, and Easy Growth
Why Pink Weeping Cherry Trees?
Beautiful pink blooms emerge each spring on the wonderous Pink Weeping Cherry Tree and provide an explosion of color through the summer. This fast-growing tree features branches that grow upright and then gracefully cascade down like an elegant chandelier, fitting right into small spaces but making a big impression.
The branches that are studded with pink blossoms during the spring and have bright yellow leaves in the fall. Basically, your tree will be one of the brightest on the block. As temperatures drop in the winter, the graceful weeping branches still add beauty to the landscape, even through the snow.
Even better? It's one of the longest-lived flowering trees available. It will flower heavily from a young age and grow more attractive with bigger and better flowers each year. So, a profusion of blooms is a given, even in poor soil, heat, and drought.
Why Fast-Growing-Trees.com is Better
But the best part about your Pink Weeping Cherry? We've planted and grown your Pink Cherry at our nursery for months, long before it ships to your doorstep. Now, you get a well-developed root system (no bare-root!) and more mature branching. We've put in the extra work so that you get a Flowering Cherry that thrives in your landscape.
This tree is a customer favorite, so be sure to order yours now while they're still available! The only catch when it comes to the Pink Weeping Cherry? It's never in stock for long...get yours today!
Customer

Reviews

& Photos

Customer Reviews

Write a Review

Ask a Question

Filter Reviews:
delivery
stars
tree
leaves
couple
husband
planting
ground
zone
quality
03/10/2020
Jeffrey Z.
United States
I recommend this product
Great tree
We bought the smaller size pink weeping cherry. When the tree arrived, it was fully dormant but was high quality. It looked healthy, had no mars, and was smartly trimmed. My husband planted it a couple of days after it arrived. It has been in the ground for a couple of weeks and we see little green leaves and even a couple of blossom clusters!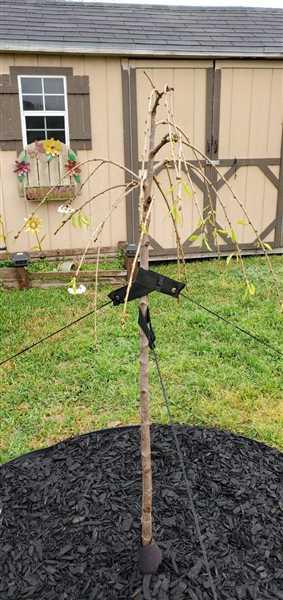 06/11/2019
Cynthia F.
United States
I love my new tree!
Purchased a weeping cherry tree. Delivery was quick. After planting, it went into shock. I continued to water it and after a month it's covered in new leaves! I absolutely love it!!!
06/05/2019
Lauren L.
United States
Dead
I am so disappointed. My cherry died. It looked terrible when it first got here but I was optimistic it would pull through with lots of TLC and water. It started turning around and the leaves perked up after about a week or so. I have now had the tree for a month and it is completely dead. My husband tried convincing me to leave it be hoping we would see some sign of new leaves but two weeks later, I am very convinced it's not going to come back.
06/14/2019
Fast-Growing-Trees.com
We are so sorry that your cherry tree perished! When dealing with live products, sometimes these things can happen which is why we have our Survive and Thrive Guarantee. It looks like we were able to issue you the store credit and we look forward to helping you with your planting needs in the future!
06/03/2019
Anonymous
United States
fast shipping
The tree seems to be doing well so far.
05/29/2019
Shu W.
United States
Pink weeping cherry tree
The customer service are so helpful and friendly.
Planting & Care
1. Planting: They grow best in moist, well-drained, acidic soil (around 6.5 to 7.0 pH) in a spot that receives full to partial sun.
Dig your hole just as deep and twice as wide as the root ball. Leave a small mound of dirt in the center of the hole to set the root ball on and carefully spread the roots in the hole. You'll want to keep the crown (tip of the root ball) of the tree roughly an inch above the surrounding soil level. If it doesn't reach that point, just add a bit more dirt to the mound underneath.
2. Watering: Water the tree when the top 2 inches of soil dries (a slow trickle with a garden hose for about 10 or 20 minutes is recommended so the water doesn't bead away from the intended watering area). This could be about twice a week in the summer, or every three weeks in the fall. Watering depends on several factors such as the soil type, rainfall amounts, and temperature.
3. Fertilizing: Flowering Cherries will not require fertilizer for the first two years. Heavy mulch around the base of the tree protects and nurtures the soil as well. When you are ready, fertilize the tree with nitrogen. Apply 1/10 pound of actual nitrogen per year for each year of the tree's age, with a maximum of 1 pound per year. Apply it once in the spring, or spread the nitrogen amount into 2 to 4 equal applications over the spring and summer.
4. Pruning: Removal of the current year's old, faded flowers and fruit clusters will promote flower buds for the following season. Prune the cherry tree during the dormant winter period to remove dead branches.
Shipping Details
Most items ship the next business day unless otherwise noted
Estimated Shipping Time: Most orders ship immediately, however some orders may ship in 1-2 business days (we do not ship on the weekends) from date of purchase. As noted on the website, some items are seasonal, and may only ship in spring or fall. Once your order is shipped, you'll receive an email with a tracking number.
| Amount of Order | Shipping Charge |
| --- | --- |
| Less than $15 | $11.95 |
| $15.00-$23.99 | $13.95 |
| $24.00-$39.99 | $16.95 |
| $40.00-$79.99 | $19.95 |
| $80.00-$98.99 | $24.95 |
| $99.00-$124.99 | $24.95 |
| $125 + | FREE SHIPPING! |
Shipping Alert:
You can still order, but due to cold weather, we have delayed shipping to the areas shaded on the map below. We want your new plant to thrive right out of the box, so we will wait on shipping your order until the weather is ideal. This includes anyone in Growing Zones 3 - 5. If you are unsure of your growing zone, visit our Growing Zone Finder.

Some plants are not available for immediate shipment, and delayed delivery is noted.

We will resume normal shipping in the Spring. Please see the table below for your approximate ship date.
| | | |
| --- | --- | --- |
| | Growing Zone | Shipping Resumes |
| | Zones 3 & 4 | Week of May 4th |
| | Zone 5 | Week of April 13th |
| | Zones 6 - 11 | Ships Now! |