Product Details
Growing Zones: 3-7 outdoors
(hardy down to -30℉)
3-7 outdoors
Mature Height:

12 ft.

Mature Width:

3-4 ft.

Sunlight:

Full Sun

Growth Rate:

Moderate

Botanical Name:

Thuja plicata

Does Not Ship To:

AZ
Don't Buy Bare-Root Trees
(learn why below)
Product Description
Brightens Cold Months with Gold Foliage
Add Some Cheer to Cold, Grey Days
The Forever Goldy's natural hue is tinged with light yellow, and landscapers love how its foliage turns 'gold with the cold.' Look no further for an arborvitae whose glowing foliage shines in the summer and is a beacon of brightness in cold, gloomy weather.
Red-hued plants like roses contrast exceptionally well with the Forever Goldy Arborvitae. Consider adding one to a container garden.  Combined with bright blues, whites, oranges and deep purple flowers, this arborvitae tends to enhance all the colorful hues around it.
Create a Beautiful Border that Provides Privacy
If you're looking for a colorful solution to block out neighbors and the sounds and lights of nearby traffic, this fast-growing tree is exactly what you want. Fully grown, it will reach 12 feet tall and widens to only 3 feet.  You won't need a lot of yard space to create a tall living fence along your property line.
Feathery Foliage with No Clean-Up
This well-behaved tree doesn't shed, so you'll get maximum visual interest, all year round. The arborvitae's soft foliage and upright, pyramidal stature can stand strong and elegant on your property.
Hardy Tree Withstands Cold Temperatures 
Performing best in average to moist, well-drained soil (in zones 3-7), the durable Forever Goldy is resistant to drought, cold weather and deer. If you're looking for a tree that can stay healthy without the fuss, season after season, this is the arborvitae for you.
Breathe Life into Your Yard or Patio  
The Forever Goldy Arborvitae emits a fresh, evergreen scent all year.  The crisp, clean aroma that's usually reserved for the holiday season provides that refreshing familiar air whether planted as a a hedge row, ornamental or in a container on your patio. 
Save Money While Increasing the Value of your Property
Tall, large trees can add upwards of $10,000 value to your home. Because these arborvitaes are fast growing, you can increase your re-sale value much more quickly than with most trees. 
By Planting around your air conditioner the Forever Goldie can decrease A/C bills in the summers due to its ability to provide shade, so your home is naturally cooler.  Because they're very effective at blocking out the wind, they can reduce heating bills from 20% - 50%.
Order soon! This golden arborvitae tends to go fast.
Customer

Reviews

& Photos
Customer Reviews
Filter Reviews:
roots
trees
shipping
plants
money
Fast Growing Trees
each other
exception
expectations
11/04/2019
Robert N.
United States
I recommend this product
IMPRESSIVE
I bought five 3 gallon and 3 1 gallon forever goodies. The 3 gallons were especially impressive...healthy, great roots, really good size. The 1 gallons were also really impressive...but the extra money for a 3 gallon is worth it! Gorgeous trees.
10/29/2019
Jerry B.
United States
I recommend this product
Jerry's review
great way to send live trees...
05/02/2019
Steven N.
United States
Top Quality Service and Product
Overall, buying the arborvitae was easy and smooth. I loved the way they were shipped, two to a box but protected from damaging each other in shipping while being protected from outside impacts as well. The plants themselves are lovely and are extremely happy at this moment. I rarely buy plants on-line but will make an exception for Fast Growing Trees. They really did exceed expectations.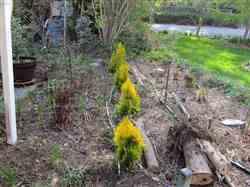 04/24/2019
joshua r.
United States
Forever Goldie Arborvitae
I bought two of them. They are beautiful and it will be a joy to watch them grow.
Beautiful color & healthy
Arrived in great shape as have all the other items I've ordered here this year. There's something especially beautiful about the coloring in this tree during during the fall which is when we planted it and so far this fall. Photos on website were very accurate! I didn't measure beforehand to visualize clearly so I was a little surprised by how small the smallest size available online was課モthus the great price課モbut it still looks wonderful. Definitely recommend.
Planting & Care
Seasonal Information Hardy to Zone 4; generally considered a slow grower.
Location/Exposure This tree does best in full sun to partial shade. It will do better in a somewhat sheltered location.  Mulching around the root zone will help protect the roots in more exposed locations and in colder climates.
Soil Preferences Forever Goldie prefers to grow in average to moist conditions.  Avoid allowing it to dry out, another benefit to mulching liberally.  It's not particularly choosy regarding pH, just avoid extremely acid or extremely alkaline sites as a guide. 
Planting – Pots/Containers Young plants are well suited to growing in large pots or containers.   Use a well drained organic potting mix containing about 20% organic matter.  Add a bit of sand to the mix if it feels too dense to assure good drainage through the pot.  Select a pot with plenty of room for the root ball, use about 2X the area of the root ball as a guide for the size of your pot.
Planting -- Garden Plant when soil conditions are workable, from fall through spring.  Your hole should be the same depth and  twice as wide as the root ball.  Sprinkle a little bone meal in the hole and mix well, then backfill with your garden soil blended with a modest amount of compost.
Watering For the first couple years, keep the soil well watered.  Once roots are established, it can tolerate some degree of drier conditions as long as you have mulched it well.  In pots and containers, keep the soil moist at all times and avoided extended drying out periods.
Fertilization Not particularly choosy regarding fertilizer applications, especially if you're applying compost and mulch.  Use a general purpose slow release,  10-10-10 in modest rates according to label in the spring if desired.
Weed Control Mulch well to suppress weeds.
Pests and Diseases Fairly tolerant to insects and diseases, remove dieback growth to prevent entry points for disease and secondary insect feeding. Deer tend to leave them alone too.
Pruning, Propagation and other recs This relatively low maintenance tree doesn't require much pruning, but if necessary for shaping, limit trimming to new growth of the current season, and any dieback branches.
Shipping Details
Most items ship the next business day unless otherwise noted
Estimated Shipping Time: Most orders ship immediately, however some orders may ship in 1-2 business days (we do not ship on the weekends) from date of purchase. As noted on the website, some items are seasonal, and may only ship in spring or fall. Once your order is shipped, you'll receive an email with a tracking number.
| Amount of Order | Shipping Charge |
| --- | --- |
| Less than $15 | $11.95 |
| $15.00-$23.99 | $13.95 |
| $24.00-$39.99 | $16.95 |
| $40.00-$79.99 | $19.95 |
| $80.00-$98.99 | $24.95 |
| $99+ | FREE SHIPPING with code SHIP99 |