Product Details
Growing Zones: 7-9 outdoors
(hardy down to 10℉)
7-9 outdoors
Mature Height:
2-3 ft.
Mature Width:
1-3 ft.
Sunlight:
Full-Partial
Growth Rate:
Moderate
Botanical Name:
Gardenia Jasminoides, Kimura Shikazaki
Does Not Ship To:
AZ
Product Description
Ever-Blooming Growth + Amazing Fragrance

Why Four Seasons Gardenia Shrubs?
This beloved charmer of southern gardens doesn't just come alive in the spring. It has big, beautiful flowers that bloom almost all year long. In fact, the Four Seasons proves tougher than other gardenias when temperatures drop, true to its name.
And you get exceptionally large, beautiful blossoms. This variety has fully double ivory white flowers that stay strong in regions with mild winters. That means you can look forward to a steady show of flowers spring through fall!
Plus, it's a multipurpose evergreen. From garden borders to ornamentals in your plant beds or rows along your driveway, the Four Seasons' blooms make this bush superior to your usual green hedge or privacy fence.
You can even plant your Four Seasons Gardenia in a container and transport it inside when the temperatures drop. Simply place near the indirect light of a window, and let the delicate fragrance fill your home. And you can always cut the beautiful flowers to enjoy in a vase or arrangement.
No matter where it's planted, you get a sought-after fragrance that's unmatched. The Four Seasons Gardenia exudes a much lighter scent than other gardenia varieties, described as pleasant but never overbearing.
Why Fast-Growing-Trees.com is Better
You won't find a healthier Four Seasons Gardenia at your local garden center, if you find one at all. When you order your Four Seasons Gardenia from Fast Growing Trees, you get a better-developed, well-rooted variety that's ready to grow above and beyond.
Because we've planted, nurtured and shipped your Four Seasons Gardenia with meticulous care, you get a hassle-free tree that explodes with fragrance and blooms as soon as it arrives at your door.
Don't let another season go by without the pleasure of experiencing this lovely plant. Place your order now for your own Four Seasons Gardenia!
Customer

Reviews

& Photos

Customer Reviews

Write a Review

Ask a Question

06/13/2020

Anonymous
United States
I recommend this product
Very healthy plant
The plant is blossoming, and growing greener
stunted growth & poor packaging
After each shipment arrived of our MANY orders I kept getting told well just tell us if it dies we'll replace it. In the meantime I have a horrible beaten up tree or plant because of their packaging. Most of the dirt spilled out of the bags the soil treatment and startup placed losely in the boxes just bounced around during shipment and damaged what was probably decent looking plants. Because of the damage and shock all the plants and trees we received (over $1 000 purchased) most are very slow in growing and don't look much bigger than the day we planted them in the Spring (it is not mid-October). I will never buy from this company again. I have since purchased from 2 fantastic other companies online who know better than to put heavy bags of soil condition in with their boxed plants and trees.. they ship those separately. Their packaging and products were so far above Fast-Growing Trees in quality timely shipments and growth !...
best gardenia ever
very very nice plant
Great Shape
My Four Seasons Gerdenia arrived in great shape one or two broken stems. I almost Immediately transferred it into a larger pot. That pot is now sitting in this much larger pot which eventually it will reside. It arrived with buds on it these did not bloom very well but it already has fresh new buds and lots of new leaves after a very short time. A little pricey but well worth it!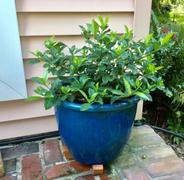 Planting & Care
1. Planting: Provide full to partial sun (at least 4 hours of sunlight daily) and southern, eastern, or western exposure indoors or out. Well-drained soil is also ideal for your Four Seasons Gardenia.
If you're planting outdoors, dig a hole large enough to accommodate your shrub's root ball, place your shrub and backfill the surrounding soil.
For indoor or patio growth, choose a container only 1 to 2 times larger than the shipped container and make sure there are adequate drainage holes in the bottom. Add enough soil so the plant will be level when it's placed.
2. Watering: Check the surrounding soil about 2 or 3 inches down. If the soil is dry here, it's time to water your Four Seasons Gardenia. Water your potted Four Seasons Gardenia until water flows from the bottom drainage holes.
3. Fertilizing: A steady feeding of a low concentration fertilizer under warm temperatures and high light is preferred. Reduce feeding during the winter and follow label instructions.
4. Pruning: Prune your Four Seasons Gardenia after flowering. Pruning isn't required but can be done for shaping.
Shipping Details
Estimated Shipping Time: Most orders ship immediately, however we are currently experiencing delays and could take up to 11-14 days from date of purchase. As noted on the website, some items are seasonal, and may only ship in spring or fall. Once your order is shipped, you'll receive an email with a tracking number.
| Amount of Order | Shipping Charge |
| --- | --- |
| Less than $15 | $11.95 |
| $15.00-$23.99 | $13.95 |
| $24.00-$39.99 | $16.95 |
| $40.00-$79.99 | $19.95 |
| $80.00-$98.99 | $24.95 |
| $99.00-$118.99 | $29.95 |
| $119.00-$148.99 | $39.95 |
| $149 + | FREE SHIPPING! |